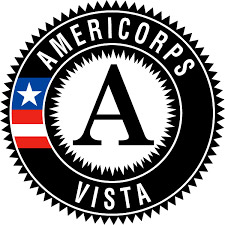 AmeriCorps VISTA members are passionate and committed to their mission to bring individuals and communities out of poverty.  Members make a year-long, full-time commitment to serve on a specific project at a nonprofit organization or public agency. They focus their efforts to build the organizational, administrative, and financial capacity of organizations that fight illiteracy, improve health services, foster economic development, and otherwise assist low-income communities.
A number of members serve in the summer months through the AmeriCorps VISTA Summer Associate program.  The program offers members the opportunity to become engaged in community service through an existing AmeriCorps VISTA project for eight to 10 weeks during the summer.
AmeriCorps VISTA is open to all U.S. citizens, nationals, or lawful permanent resident aliens age 18 and older. Members and Summer Associates receive a modest living allowance, and those who serve for a year also receive health coverage, childcare, if needed, and other benefits. After successful completion of a term of service, members can choose to receive a Segal AmeriCorps Education Award or post-service stipend. Learn more on the What VISTA Members Do page.
White Earth Land Recovery is a VISTA sponsor.  During the summer 8 to 10 VISTA members serve our community for eight weeks building the capacity of the organization and the community.  They plant and keep gardens which are used for the the Farm to School Program.  They create viable stories on Niijii Radio which address community issues, they assist with research and reporting information vital to community health.  They beautify our communities through cleaning projects, garden development, and mural projects.
Click on the images below for gallery view: